Chiropractic Care When You Need Us Most
We can help. Call us today for a pain consultation. We have 7 CONVENIENT locations throughout south Florida. We'll give you the attention you need and the care you deserve. Don't want to call? Fill Out the Form Below & We'll Follow Up With You.
Contact Us Today

to Start Feeling Better Tomorrow
Why is neck pain such a common symptom after a car accident? If you experience neck pain after a car crash, don't worry; this condition is not unusual. Neck pain is a common condition after an auto accident, which we see frequently. It is not surprising that neck pain is the most common symptom...
read more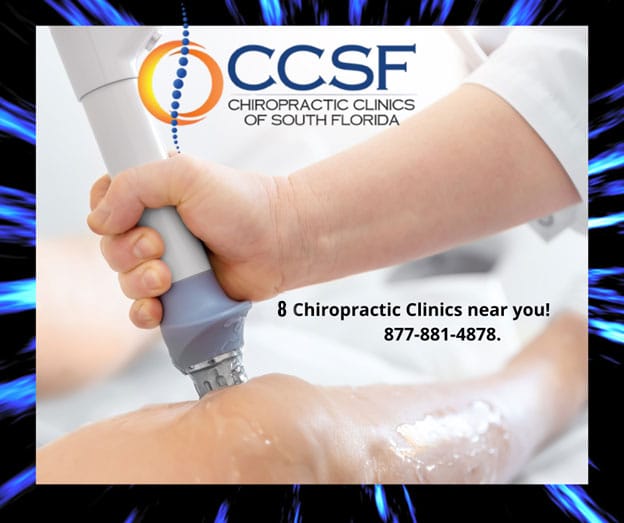 What Is Shock Wave Therapy (ESWT)? Shock Wave Therapy, or Extracorporeal Shock Wave Therapy (EWST), is a non-invasive treatment that involves the delivery of shock waves to an injured area to promote healing. This non-invasive procedure does not involve surgery or needles; results are often seen...
read more
We Are The Car Accident Injury Rehab Clinic
At the Chiropractic Clinics of South Florida, we believe enjoying a long and healthy life is important for everyone. Chiropractic care unlocks your body's natural healing process to ensure a healthy, pain-free life. We are proud to offer a wide range of comprehensive chiropractic care for natural pain relief to meet the needs of adults, seniors, and pediatric patients.
NOW OFFERING COVID-19 PCR testing & ANTIBODY TESTING AT OUR HOLLYWOOD LOCATION
Chiropractic Clinics of South Florida offers services to ease your concern and get you the answers you need fast. We offer drive-thru testing with results available in as little as 15 minutes. Contact us to set up your COVID antibody screening at 877-881-4878.
We Offer $80 DOT Physicals
(New or Renewal)
We offer DOT Physicals at all of our seven locations however, you do need to call 877-881-4878 (HURT) to make an appointment or make one online.
 Were you involved in an accident while riding Uber or Lyft?
You may be entitled to receive compensation or services. Call for a consultation to learn more.
Our Team of Chiropractors Can Help Your Car Accident Injuries
Our team of doctors have the knowledge in aiding a patient that has been through car accident. Our doctors will give their professional testimony to help assist your attorney in the event your case goes to trial. Our office staff is competent, kind & compassionate. We understand the seriousness of your situation. Our team is fluent in English, Spanish and Creole so the doctors can detail the patient's specific concerns and address these areas when applying therapies. At Chiropractic Clinics of South Florida we work with a variety of medical specialties to give the patient the individual attention he/she needs. Transportation is never a problem and can be provided if the patient has difficulty in getting to our clinics. With seven convenient locations in the South Florida region including Kendall, Miami Airport, Miami Lakes, North Miami, Hollywood, Pompano Beach and West Palm Beach finding a clinic near you is very simple. We only accept those patients determined to have the potential to benefit from our care. Chiropractic is more than just a solution for car accident pain, it's key to a healthy lifestyle. Call us today at 877-881-4878(HURT) to schedule an appointment.
We Can Help You Find An Attorney That Suits Your Individual Needs
The law limits the time you have to file a personal injury claim arising from an automobile accident so don't wait another day. Act now! Unlike attorney referral services in which attorneys pay to be part of their network, we work with attorneys who dedicate their expertise to maximize your settlements & give your case the personal attention it deserves.
Whether you are receiving therapy for a car accident or a job-related neck injury, Chiropractic Clinics of South Florida can be of assistance. Like other referral services, our goal is to be there to assist you to lead an energetic, healthy, and balanced life but we stand out where they fall short.
Our primary focus to provide our patients with a pathway towards better health through ongoing chiropractic maintenance and preventative care. Our number one concern is the health and safety of the people we serve. Therefore, we only accept those patients determined to have the potential to benefit from our care. Chiropractic is more than just a solution for car accident pain, it's key to a healthy lifestyle. Call us today at 877-881-4878(HURT) to schedule an appointment with our chiropractor, Dr. Garrett Weinstein, DC.
NATURAL CHIROPRACTIC HEALING & PAIN RELIEF SERVICES WE OFFER
Our team of accident injury chiropractors treat conditions such as sports injuries, spinal injuries, car accident injuries, back pain, neck pain, migraines, whiplash, low back pain, sciatica and more.

Uber Accident Injury
While Uber is a wonderful way for motorists that have some added time or are headed in the same direction as another individual who is in need of a trip, there is always the possibility of a Uber accident taking place.
WILLIAM KILMER
— Back Pain Treatment —
"Dr. Weinstein helped me to re-gain the ability to pursue the active lifestyle that I love. I injured my shoulder while kite surfing over a year ago and had constant pain that was getting worse every time I exercise.
SARAH PAXTON
— Neck Pain Treatment —
"I was super impressed with the amount of time Dr. Weinstein spent working to pin-pointing the cause, validating his diagnosis and explaining things to me.
LETS TALK ABOUT CHIROPRACTIC MAINTENANCE AND PREVENTATIVE CARE AFTER A Car ACCIDENT?
Do I have to be referred by a doctor?
No, physiotherapists can assess and treat without referral by a doctor. However most health insurers require a doctors referral before they authorize cover of fees, some only require a phone call.
Chiropractic Clinics of South Florida Copyright © 2023 All Rights Reserved